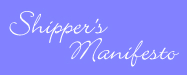 This is the search engine for
The Shipper's Manifesto Journal

The single largest compilation of 'shipper meta, written for fans by fans, with detailed analysis of the characters involved, the pairing itself, and the current state of fandom surrounding them.
Keywords [help!]
Fandoms
Spot a problem? Please report it to me, trkkr47@gmail.com!